04 Dec

Eurobites: Cellnex Buys 1,500 Tower Sites From Orange Spain | Light Reading

12/4/2019

Also in today's EMEA regional roundup: OBS connects Mars employees; broadcasting at the edge; Vodafone tunes into AWS Wavelength; more ETNO grumbling.
Spanish towers company Cellnex Telecom has agreed to buy 1,500 telecom sites — including towers and antennas in urban, suburban and rural areas — from Orange Spain for 260 million. The terms of the contract will allow Orange to continue to use the sites for at least ten years. It's been a busy (and expensive) year for Cellnex — back in October it struck a deal to buy the telecom division of UK-based towers company Arqiva for 2 billion (US$2.4 billion).
Elsewhere on Planet Orange, the operator's business-to-business division, Orange Business Services, has landed a contract with chocolate giant Mars to build what they are calling an intelligent automated network (IAN). The IAN will connect more than 125,000 Mars employees across 80 countries.
Is it the end of the road for outside-broadcast TV trucks? That's the implication of a trial carried out by Telefnica and Spanish broadcaster RTVE, which used three cameras connected to Telefnica's edge-computing capabilities through its fiber network to broadcast "La Radio es Sueo" ("Radio is a Dream") from the Cineteca de Matadero Madrid via a remote content production interface in Torrespaa, a separate district of Madrid. Telefnica's network provided real-time bandwidth and a low latency of between 3 and 5 milliseconds.
In more edge-related news, Vodafone Business is collaborating with Amazon Web Services (AWS) to make AWS Wavelength available in Europe. AWS Wavelength, says Vodafone, provides developers with the ability to build applications that serve end users with single-digit millisecond latencies over the 5G network by embedding AWS compute and storage services at the edge of operators' 5G networks. Initially, AWS Wavelength will only be available on Vodafone's UK and German 5G networks, but other Vodafone markets across Europe will be added in time. Vodafone is just one of a number of operators that have stepped up to give AWS Wavelength a whirl. (See Verizon, Vodafone Embrace Amazon's AWS for Edge Computing With 5G.)
The European Telecommunications Network Operators' Association (ETNO) has been trying to make its presence felt again this week, putting out a statement calling for better investment conditions and the encouragement of cross-border consolidation within the industry, among other things. Also, the organization's bigwigs — Deutsche Telekom's Tim Hoettges and Orange's Stephane Richard among them — sat down with tough European Commission cookie Margrethe Vestager to help hammer home their points.
Another corporate big cheese, Telefnica's Jos Mara lvarez-Pallete, has received the Business Leader of the Year award from the Spain-U.S. Chamber of Commerce in recognition of "his vision and leadership at the helm of the company." He da man-chego!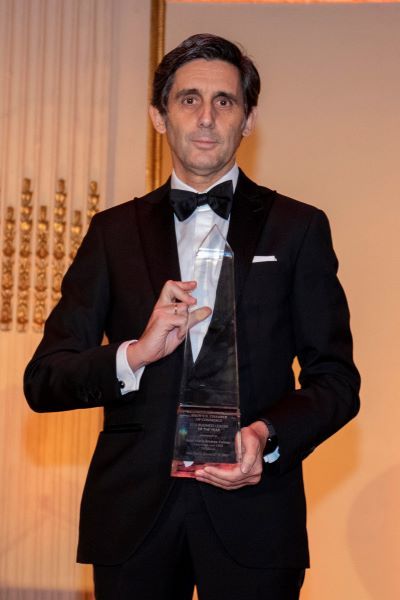 Telefnica's Jos Mara lvarez-Pallete: It's a vision thing.
Ericsson has been given the 5G nod from Azercell, the Azerbaijani operator with which the Swedish vendor has already worked on a test 5G network in Baku, the country's capital. The latest agreement, spanning three years, will extend the pilot zone and seek to introduce IoT technology in a range of verticals.

Paul Rainford, Assistant Editor, Europe, Light Reading

(0)  | 





Educational Resources
sponsor supplied content

December 3-5, 2019, Vienna, Austria

March 16-18, 2020, Embassy Suites, Denver, Colorado

May 18-20, 2020, Irving Convention Center, Dallas, TX