06 Jul

Eurobites: Ericsson trumpets standalone 5G NR software | Light Reading

Also in today's EMEA regional roundup: Colt appoints new CCO; using drones to fix cell towers; smart home devices losing their luster in MEA.

Who needs 4G anyway? That's the message Ericsson is pumping out as it officially launches its Standalone 5G NR software, which, says the vendor, allows communications service providers to operate 5G New Radio (NR) "without the need for signaling support from an underlying LTE network." The software is intended to allow those service providers to add 5G NR to existing 4G sites with a "simpler architecture" or deploy the technology independently in areas such as factories. Per Narvinger, Ericsson's head of product area networks, said: "Over the past year, we have worked closely with many customers to successfully deploy Non-standalone 5G Now we are taking the next step in the evolution of 5G by making generally available the software to support Standalone 5G NR networks." (See Eurobites: Ericsson offers 'try before you buy' 5G SA kits to enterprises and Eurobites: Ericsson Intros Standalone NR Software & More in 5G Fusillade.)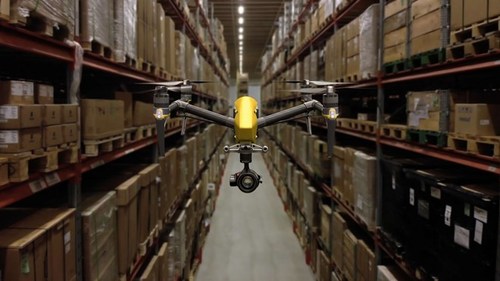 Drones on: 'Smart factories' are pinpointed by Ericsson as likely users of its new 5G NR standalone software.
UK-based Colt Technology Services has appointed Paula Cogan as its new chief commercial officer, replacing Keri Gilder, who held the role before becoming CEO earlier this year. Cogan has been with Colt for four years; prior to joining Colt, Cogan held senior sales roles at Verizon Business and BT. Colt's IQ Network connects more than 900 data centers across Europe, Asia and North America.
Sky-Futures Partners has landed a four-year contract with an unnamed Scandinavian telco for drone-based cell site survey work. Once the drones collect the cell site data, it will be uploaded into AI-enabled cloud software and used by engineers to remotely diagnose and address problems found at the cell sites without having to make actual site visits. Sky-Futures is part of ICR Integrity, a provider of maintenance and repair services to energy, chemical and defense industries worldwide.
As the continuing COVID-19 pandemic casts a shadow over many people's income levels, belts are being tightened when it comes to smart home devices in the Middle East and Africa (MEA) region. This is according to a new report from IDC, which predicts that spending on such devices will decline 6% year-on-year in the second half of 2020, from $3.76 billion in H2 2019 to $3.5 billion this time around. Conversely, IDC expects growing interest in and expenditure on energy-saving devices such as connected thermostats and smart light bulbs.
In other coronavirus-related news, UK broadband provider TalkTalk is extending its Homeworker business-grade broadband service for remote workers to its more than 800 resellers, or "channel partners." TalkTalk says it will "support Partners' go-to-market investment through a marketing development fund in addition to assistance with expert insight and data analysis, white label marketing materials, and more."

Paul Rainford, Assistant Editor, Europe, Light Reading