20 Jan

Eurobites: EU looks forward to post-Trump tech era | Light Reading

Also in today's EMEA regional roundup: Vodafone and MTS stay friendly; Nokia slices FWA for Saudi Arabia's Mobily; mobile sales slump at Dixons Carphone.

As Donald Trump heaves his massive overcoat into the sunset, leaving an almighty mess in his wake, the European Commission is getting excited about a potential new era of collaboration in the tech sphere. Speaking to a plenary session this morning (Wednesday), European Commission President Ursula von der Leyen said: "When it comes to digital tech we have a lot to offer the new US administration As the first step, I can imagine a common technology council being set up [between the EU and US] and together we will write a rule book that will be valid globally, going all the way from privacy rules to security-critical digital infrastructure." Cooperation? Collaboration? Crazy times.
Vodafone and Russian mobile operator MTS have extended their "strategic partnership" until 2023, with plans to carry out a series of unspecified joint projects vaguely related to the semi-mystical process of "digital transformation." The agreement, say the companies, gives MTS access to Vodafone's expertise in network and IT management as well as its scale and heft in equipment procurement. The pair have been collaborating in such areas since 2008.
Nokia is claiming to have successfully piloted the "first sliced FWA deployment in the world," with Saudi Arabian operator Mobily. The pilot, which took place on Mobily's commercial network in Riyadh, ran in a multivendor environment and included sliced access, transport and core networks with management and assurance capabilities. Mobily now plans to offer new FWA services to "priority" consumer and enterprise customers.
Mobile phone-related revenue fell 40% year-on-year at electricals retailer Dixons Carphone in the ten weeks to January 9, which is hardly a surprise given that large parts of its operations across the UK, Ireland and Denmark were suffering enforced closures because of the ongoing pandemic. Medium-term guidance remains unchanged.
Deutsche Telekom says it has connected the first live customer to its disaggregated broadband network, using routing software from RtBrick running on bare-metal switch hardware, to deliver up to a gigabit of Internet connectivity. The first subscriber was connected to an exchange in Stuttgart, with a wider rollout being planned.
Deutsche Telekom is also celebrating, with Inmarsat, an in-flight Wi-Fi milestone: the availability of the European Aviation Network (EAN) on more than 250 aircraft across the continent. The EAN was developed by the two companies in partnership with the likes of Thales, Nokia and Airbus, and is currently available with British Airways, Iberia and Vueling, which are all part of International Airlines Group (IAG).
The BBC's catch-up streaming service, iPlayer, is making hay during the pandemic, breaking its own records in the first full week of 2021 as viewers streamed 162 million programs, and not all of them EastEnders. Encouragingly, for a broadcaster that many portray as the province of the oldies, 4.1 million viewers aged under 35 used iPlayer during that week. And the most popular iPlayer box set in 2020? Normal People, with 63,715,000 streams.
Openreach, the semi-autonomous network access arm of BT, has brought fiber to the UK's only water-powered funicular railway, which links Lynton and Lynmouth, two villages in Exmoor separated by a high cliff. The hope is that the fiber connectivity will in some way help the railway, which dates from Victorian times, to continue to attract tourists.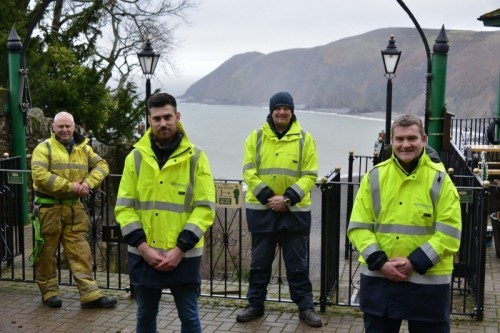 It's behind you! Openreach engineers and site manager Ashley Clarke (far left) fail to admire the view at Lynton & Lynmouth Cliff Railway.
Paul Rainford, Assistant Editor, Europe, Light Reading