14 Nov

Eurobites: MTN Gets 5G-Ready With Ericsson | Light Reading

11/14/2019

Also in today's EMEA regional roundup: Telefnica COO supports consolidation; Nokia and AT&T collaborate on IoT in Germany; smart speakers in smart homes.
Ericsson has landed the contract to upgrade MTN South Africa's network to 5G, and will supply the necessary bits and bobs from its RAN, transport and core product families to support a 3GPP-compliant 5G Non-Standalone (NSA) architecture. Commercial rollout is expected to start in 2020. The contract forms part of a three-year "digitalization" deal signed earlier this year.
Telefnica's chief operating officer, Angel Vila, has told a conference in Barcelona that he's in favor of consolidation in Spain's highly competitive telecom industry. As Reuters reports, Vila said that the operator "would be supportive of consolidation of the Spanish market if that scenario were to take place."
Nokia and AT&T are setting up an innovation "studio" in Munich dedicated to all things Internet of Things, so think connected cars, fancy-dan factories, that sort of thing. Handily, some of the world's largest manufacturers and carmakers are located within a few hours' drive of Munich. Nokia is setting great store by WING — its "worldwide IoT [Internet of Things] network grid," a managed service for customers wanting to support IoT applications across numerous countries. (See Nokia WINGs It With Global IoT Move.)
Orange has launched its own smart speaker, Djingo (I know, weird eh?), which it has developed with Deutsche Telekom. Costing 99.99 (US$110), Djingo will allow its owners to make hands-free phone calls, navigate Orange TV using voice commands and even control light bulbs and smart bulbs if they are signed up to Orange's "Maison Connecte" system.
Also getting into the voice-assisted smart home thing is Swisscom, which has introduced a new set-top box — the Swisscom Box, obvs — that allows its customers to control smart home devices via their TVs.
Global Wireless Solutions has released the results of its first 5G test in London, which reveal that there is still much to be done to improve coverage and prevent "fallback" to 4G. In terms of the operators, EE came up trumps, seeing download throughputs above 350 Mbit/s at various locations, while O2 and Vodafone achieved download throughputs above 200 Mbit/s. And early adopters wanting to get their money's worth from their shiny new 5G phones should take them to the area around St Paul's Cathedral, where the testing delivered peaks of over 470 Mbit/s. (See Vodafone's 5G Network in London: A User Review.)
Mobile operator EE says it will be the exclusive UK distributor for Motorola's natty update of its iconic Razr "flip phone," which now unflips to reveal a foldable touchscreen. EE has yet to reveal its prices for the phone, which goes on sale in the US on Boxing Day for $1,500.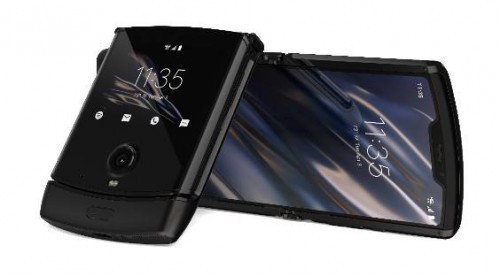 Motorola's Razr reboot: Plenty of folding
Paul Rainford, Assistant Editor, Europe, Light Reading

(0)  | 





Educational Resources
sponsor supplied content

5G Poll