19 Nov

Eurobites: Nokia's 5G Juggernaut Rolls On | Light Reading

11/19/2019

Also in today's EMEA regional roundup: Orange turns to Fortinet for secure SD-WAN; ADVA interconnects in Austria; UK gets new 5G working group; BT combines with NHS on blood donation.
Finland's Nokia has been crowing about some new 5G deals while it steers a herd of analysts through its headquarters near Helsinki, and topping the list is a 5G contract with Spark New Zealand, Nokia's 50th. It's significant because Nokia appears to have come in as a substitute for Huawei, a controversial Chinese supplier that was shown the red card by New Zealand authorities this time last year when Spark applied to build a 5G network using Huawei's equipment. Nokia says it will provide radio access network products at 200 sites, along with other 5G goodies. Huawei, deemed a security threat by its opponents, remains on Spark's supplier list, according to mainstream press reports, but without anything to do. In a separate announcement, Nokia said it had won another 5G contract with DoCoMo Pacific in the Marianas, whose entire population could fit comfortably into London's Wembley Stadium. The deals, nevertheless, are a positive sign for Nokia, which has run into 5G product difficulties after choosing overly expensive components for its gear. There was also good news from the company's relatively young enterprise business, which is already supporting more than 120 private wireless networks across the globe. (See Nokia: We Run 120+ Private Wireless Networks Around the World, Nokia's 5G Chip Choice Leaves It Exposed and Nokia Aims for Better 5G Days as Investors Panic.)
Orange Business Services has turned to Fortinet to add some extra security to its Flexible SD-WAN offering. Fortinet's Secure SD-WAN product will be integrated into Orange's range as a new technology option.
Germany's ADVA has landed a data center interconnection contract with Conova Communications, an Austrian IT service provider. Conova has deployed the ADVA FSP 3000 open line system (OLS) with optical encryption in response to increasing demand from business customers for safe and reliable cloud services.
Interxion, the Netherlands-based provider of colocation data center services, has teamed up with tech-hub champion Tech London Advocates to launch a working group dedicated to furthering the cause of 5G in the UK. Its inaugural event, on November 28, will, it says, address the disconnect between mobile operators claiming 5G networks are already accessible in major UK cities and the "realities of transforming connectivity for mass economic benefit throughout Britain."
BT has signed a deal with NHS Blood and Transplant, the organization that runs the blood donation program for the UK's National Health Service, to allow it to "digitally manage" the program through the use of EE's 4G network. The network will be connected to the various devices used at the blood donation sites, allowing NHS staff to record and update patient details, as well as track information on blood donation bookings and donor records. All data will be stored on a BT platform in the cloud which will be updated in real time and used by the blood donation team when the donation is collected.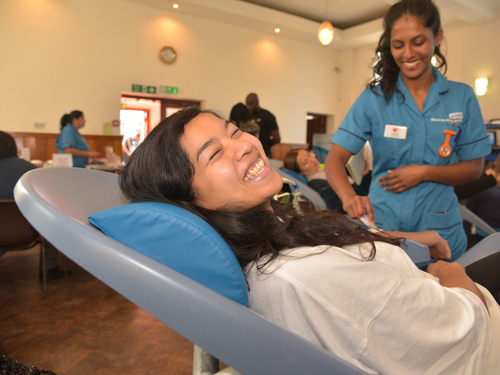 Giving blood can be fun – honest!
Swisscom is trumpeting its participation in a proof-of-concept trial with Deutsche Brse (the German stock exchange) and three banks that succeeded in jointly settling securities transactions with "tokenized" shares via distributed ledger technology (DLT), otherwise known as blockchain. In the trial, the share registry of a real Swiss enterprise was digitized using the platform of startup Daura.
Dixons Carphone, which is attempting to hold its own in the shifting sands of the UK phone-retailing industry, has made a couple of significant appointments. Mark Allsop, late of Merlin Entertainments, becomes the company's first chief digital officer, while Andy Gamble, who has worked for Sony and Dyson, among others, will replace Leonidas Athanasiou, who is leaving in the new year for personal reasons.
Tele2's Thomas Helbo has become a board member at the NGMN (Next Generation Mobile Networks) Alliance, the industry organization that, as its name suggests, sets out to ensure that these fancy-dan next-gen networks actually function properly. Tele2 is the only Swedish operator represented in the group.

Paul Rainford, Assistant Editor, Europe, Light Reading

(0)  | 





Educational Resources
sponsor supplied content

5G Poll