03 Dec

Eurobites: Putin Plans Russian App Revolution | Light Reading

12/3/2019

Also in today's EMEA regional roundup: Trump threatens cheese war with France over tech titans tax; Sky plans major new TV studio; Nokia lands smart grid gig in Finland.
Russian President Vladimir Putin has taken time out from uneasy-on-the-eye topless horseriding and beating his underlings at judo to sign legislation that requires all smartphones, computers and smart TV sets sold in Russia to come pre-loaded with Russian software. As Reuters reports, the law, which comes into force on July 1 next year, is intended to help Russian tech firms compete against foreign tech behemoths such as Apple and Huawei. The government plans to come up with a list of Russian applications that would need to be pre-installed on different devices.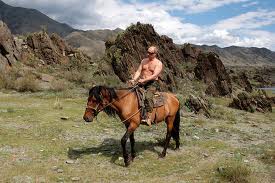 His satnav is made in Russia.
Meanwhile, in other charm-school graduate news, the BBC reports that US President Donald Trump is threatening to slap 100% import tariffs on a range of French goods including cheese, champagne and handbags in retaliation for France's introduction of its digital services tax, which is principally aimed at US-based tech giants. Back in August, Facebook, Google and Amazon all testified in Washington in support of the Trump administration's plans to punish France. Camembert-faced cheek? You decide.
More proof, if it were needed, that original content is king when it comes to competing in the increasingly complicated TV market: Sky is to invest 3 billion (US$3.9 billion) and create more than 2,000 jobs by setting up a major new studio at Elstree, just north of London, in partnership with NBCUniversal, the sister company of its owner, Comcast. The studio, which will have 14 sound stages covering 32 acres, is expected to open in 2022.
Fingrid, Finland's national power transmission system operator, has chosen Nokia to build an IP/MPLS network to support the "digital transformation" of its national electrical grid. Fingrid will use the network to operate 120 high-voltage substations and control 14,600km of power transmission across the country. It is also intended to help manage the increasingly diverse range of energy sources, such as wind and solar.
Openet, an Irish purveyor of business support systems (BSS), is trumpeting a policy control software win with an unnamed Tier 1 North American communications service provider. The BSS will run on Amazon Web Services.
Rostelecom, a Russian digital services provider, has employed Juniper Networks to upgrade its IP transport backbone, which will see the US vendor deploying its MX Series 5G Universal Routing Platform and PTX Series Packet Transport Routers. Rostelecom claims more than 13.1 million broadband customers and 10.3 million pay-TV subs.
In a separate contract win, Juniper will be helping CERN, the European nuclear research organization, to increase the capacity of its data centers and technical network, creating, says Juniper, a network built for "extreme computing."

Paul Rainford, Assistant Editor, Europe, Light Reading

(0)  | 





December 3-5, 2019, Vienna, Austria

March 16-18, 2020, Embassy Suites, Denver, Colorado

May 18-20, 2020, Irving Convention Center, Dallas, TX