25 Jan

Eurobites: Virgin Media launches 5G services with Vodafone | Light Reading

Also in today's EMEA regional roundup: Orange teams up to create digital health ecosystem; Telecom Italia targets cloud through Noovle; Telia and Ericsson develop drones service.

Virgin Media is launching 5G services in the UK, on Vodafone's network. Those Virgin customers upgrading to 5G will be migrated to the Vodafone network; those sticking with 4G for now will remain on Virgin's mobile service that runs on EE's network until Virgin's agreement with BT Enterprise comes to an end in late 2021. Virgin anticipates that all of its mobile customers will have transferred to the Vodafone network by early 2022. Virgin's 5G services will be available in 100 UK towns and cities, with more to follow.
France's Orange is joining forces with Cap Gemini, Sanofi and Generali to create a "digital health ecosystem" that they hope will encourage innovation and provide concrete solutions to some of the healthcare problems that are afflicting the world. The founding companies, who are planning an initial investment of 24 million (US$29.1 million) in the new entity, will share their technologies, expertise and data with around 100 European startups. The whole project will be based in Paris.
Telecom Italia (TIM) has given birth to Noovle SpA, a new company wholly owned by the TIM Group that is focused on cloud and edge computing. The new entity combines TIM's data centers with the expertise of Noovle Srl, a company acquired by TIM last May that is one of the main Google Cloud partners in the Italian market. TIM is entrusting Noovle with, among other things, the task of building six new data centers specializing in the provision of public and hybrid cloud services.
Swedish operator Telia is hooking up with Ericsson's "tech accelerator" unit, Ericsson ONE, to carry out livestreamed industrial inspections via drones. Using Telia's network, personnel such as site investigators and technicians will be able to follow live, encrypted video feeds to troubleshoot problems in hard-to-reach environments. Radio-controlled drones currently used for industrial inspection can be adapted to the mobile offering via a hand controller connected to an LTE router, says Ericsson. Swedish utility Vattenfall participated in a pilot project and will be one of the first customers to use the new service.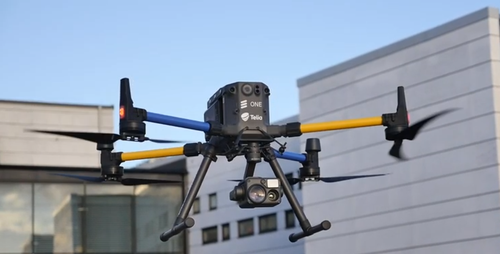 You'll need to get it higher than that, mate.
Ofcom, the UK communications regulator, has put back the start of the auction of the 700MHz and 3.6-3.8GHz frequency bands until March, seemingly due to the effects of the coronavirus pandemic. The auction was due to have started this month. Commenting on the announcement, a BT spokesperson said that while BT understood the reasons for the postponement, it urged the regulator "to resist any further requests for delays."
Vodafone is to invest 20 million ($24.3 million) over five years in digital skills and education programs across Europe. It is hoped that the initiative, overseen by the operator's charitable arm, Vodafone Foundation, will reach 16 million people, both young and old, by 2025.
In what could be seen as a triumph of hope over experience, European lawmakers have invited the bosses of Amazon, Apple, Facebook and Google parent Alphabet to a hearing in Brussels on February 1 as they continue in their quest to bring the online US behemoths to heel. As Reuters reports, the invitation said that the point of the hearing would be "learn about their current business models and future concepts as they face the challenges of altering market conditions." With a newly installed president who isn't the biggest fan of social media, at least one of the invited CEOs probably has enough on his plate back home
T-Systems, Deutsche Telekom's IT services arm, is touting its latest business wins, citing them as evidence that its focus on cloud and digital services is paying dividends. Shell, Heineken and Deutsche Post DHL Group all renewed their partnerships with T-Systems towards the end of last year, signing contracts worth more than 2 billion ($2.4 billion).
Swiss operator Salt is basking in the glory of having its fixed-line broadband service, Salt Home, ranked the fastest in the country for the third year in a row by nPerf. The result is based on more 110,000 connection tests, performed throughout 2020.

Paul Rainford, Assistant Editor, Europe, Light Reading