17 Mar

Why 10Gig is the right PON play today | Light Reading


Worldwide, operators of all types are turning up an increasing number of passive optical networks. Whether they are telcos transitioning off their legacy DSL platforms, overbuilders trying to reach multiple dwelling units, cable operators targeting greenfield builds or, increasingly, service providers entering currently underserved rural markets, there is an explosion in new fiber build activities.



Given the timing to the market, these operators face a decision. Should they continue embracing the 1Gig (or 2.5Gig) GPON and EPON networks, or should they move to the newer 10Gig platforms – either 10G-EPON or XGS-PON? I was just recently talking to a small operator and was surprised to learn they were still building out with 1Gig PON platforms. Let's look at what might be involved in making such a decision, and why I believe 10Gig PON is the right choice.



First, a refresher on terminology. The equipment used on premises for PON networks is called an ONU (optical network unit). ONUs (and less and less referred to as ONTs) are connected through a passive fiber splitter/combiner network to an OLT (optical line terminal). The OLT is, to some degree, the cable equivalent of a CMTS (cable modem termination system) or CCAP (converged cable access platform) device.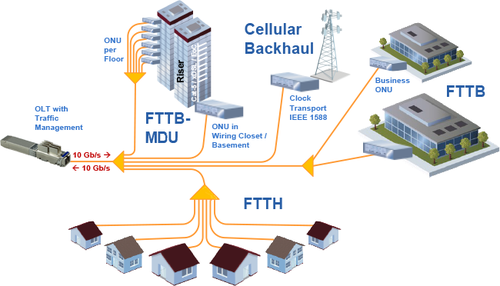 An OLT port can typically serve between 32 and 128 different end points. Applying time division multiplexing, the PON uses standard-defined multiplexing protocols to divvy up and share bandwidth amongst individual ONUs.


So here are some points to consider as you make your 10Gig PON (or not) decision:


a) The more mature 1Gig/2.5Gig equipment out there might seem more attractive, due to the ONU cost being a third the cost of a 10Gig ONU. Conversely, the obvious advantage of 10Gig equipment is the 4x or 10x speed advantage over legacy PON systems. Even at a premium, a 10Gig ONU is still under $100 at volume, with some basic bridge ONUs below $75. Anyone who has built a fiber network – particularly a "brownfield" overbuild – knows that the cost of construction dwarfs all other costs. In addition, while the fiber construction and the OLT setup must happen day one, ONUs need only be purchased upon service activation and deployed at the customer premises. This is commonly known in the industry as the success-based capital – you are only spending that money on ONUs when you have a customer activated and monthly cash flow to support the expense. With the ARPU (average revenue per unit) of a fiber-fed broadband customer being quite high ($87 per month in the US and $100 per month in Canada, according to Omdia), the payback on that added CPE expense is fairly quick.


b) 10Gig PON is designed to co-exist with 1Gig PON on the same fiber plant using different wavelengths (wavelength division multiplexing). Even those who do not select 10Gig PON now, will eventually have to move to 10Gig PON in a number of years as a long history of bandwidth and product trends prove. In many cases, that will look like a "bolt-on" (line card or chassis) and such installations will have to run the two networks in parallel. Further, if you are pushing the limits of either distance, or building out to the maximum allowed number of endpoints, by externally optically combining these two systems, you will attenuate signal power levels, and not be able to achieve peak system performance. Otherwise, you will be required to purchase equipment that supports both internally. As well, consider a solution such as that offered by startup TiBiT Communications, where the entire OLT has been collapsed into a SFP+ pluggable, allowing the use of standard networking equipment. This will allow operators to dispense with the need to purchase a dedicated OLT chassis.



c) Additionally, one should always consider business services. Whether the operator is deploying PON in a targeted business area or residential footprint with a smattering of business addresses, business customers will often be more demanding. In the case of a 1Gig PON network, it can take careful planning to ensure that the network is not oversubscribed. However, in the case of 10Gig PON, the 4x-10x bandwidth increase allows for simplified capacity planning, particularly in light of the fact that most SMB business customers take a 100Mbit/s or below service. Extrapolating, business installations with 1:16 and 1:8 splits benefit even more so from 10Gig, although that normally won't be necessary.


d) 25Gig and 50Gig PON standards work is well underway, with some parts already complete. Those protocols and conventions are being designed in a way to accommodate legacy 10Gig PON systems, and even 1Gig and 2.5Gig. But it remains to be seen if vendors will want to build that much backwards compatibility into their systems, and likely will come with a price tag. So those customers turned up today could equate to future (avoidable) truck rolls or extra costs.


e) Lastly, 10Gig PON ONU deployments are climbing steadily, and so we can certainly expect to see another trend we are all familiar with – rapidly falling equipment prices.


It's been fun to see the constant march forward in PON capabilities. From 1G to 2.5G to 10G to 25G, and soon 50G. But the fast pace of change also brings an obligation to keep abreast of the constant evolution for network architects and operators.


Jay Rolls is an industry advisor for companies such as TiBiT Communications, and a former CTO of Charter Communications.